Koen Roelandt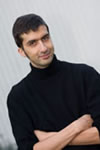 Koen Roelandt studied Germanic languages at KU Brussels and KU Leuven. He also took a postgraduate degree in Medieval Studies at the University of Glasgow. After some time working as a web developer and web editor in the private and public sector, he returned to academia as a PhD student in linguistics.
In March 2016 he defended his PhD in Linguistics, with the dissertation Most or the Art of Compositionality: Dutch de/het meeste at the Syntax-Semantics Interface (supervised by Hans Smessaert and Dany Jaspers).
For more information see his personal website at CRISSP, KU Leuven Campus Brussels.